Jim Foster | Manager
Jim is a native of Townsend, a graduate of Kinman Business University, and began his career as the District's Manager in January, 1989. Prior to Jim's employment at the District, he owned and operated a private irrigation equipment business where he specialized in system design, installation, and maintenance. This experience has proven invaluable while providing assistance to farmers and water users with their irrigation problems or planning. In conjunction with his manager duties, Jim is also an officer for Montana Water Resources Association and works on statewide and regional water, natural resource and power generation issues.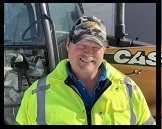 Ken Olsen | Water Master, O&M Supervisor
Ken began working for the HVID in 1981, and retired in 2007.  After eight years of driving truck, Ken is back working for the District.

Glen Hart |  Ditch Rider-East End
Glen is a native of Helena, a Capital High graduate, and began working for the District in March, 2008. Glen grew up on the family owned, Hart Ranch which uses water from the HVID. Glen's experience irrigating with both flood and sprinkler systems gives him valuable firsthand knowledge of farmer's needs and challenges. The east side of the HVID includes our larger farms and ranches which require long, difficult lateral ditches to serve them. Glen not only has mastered the difficult ditches but with his easy going, good nature and common sense, has built good relationships with his water users.


Trey Kokoruda |  Ditch Rider-West End
Trey is a native of Helena, a Capital High graduate.  Trey graduated from MSU Bozeman